Layout
The villa's main residence is arranged over two levels, resplendent with glass walls and an open-plan kitchen with a long, family style dining table. Above the kitchen in the main residence is the master suite and one guest bedroom, perfect for families with children. Each of the other three rooms are stand-alone and joined by a wooden patio.
Extending from the front of the main residence towards the sea is a spacious outdoor living area with a timber pool deck, comfortable sun loungers and an infinity swimming pool. The air-conditioned family room is located within close proximity to the pool, facing the beach.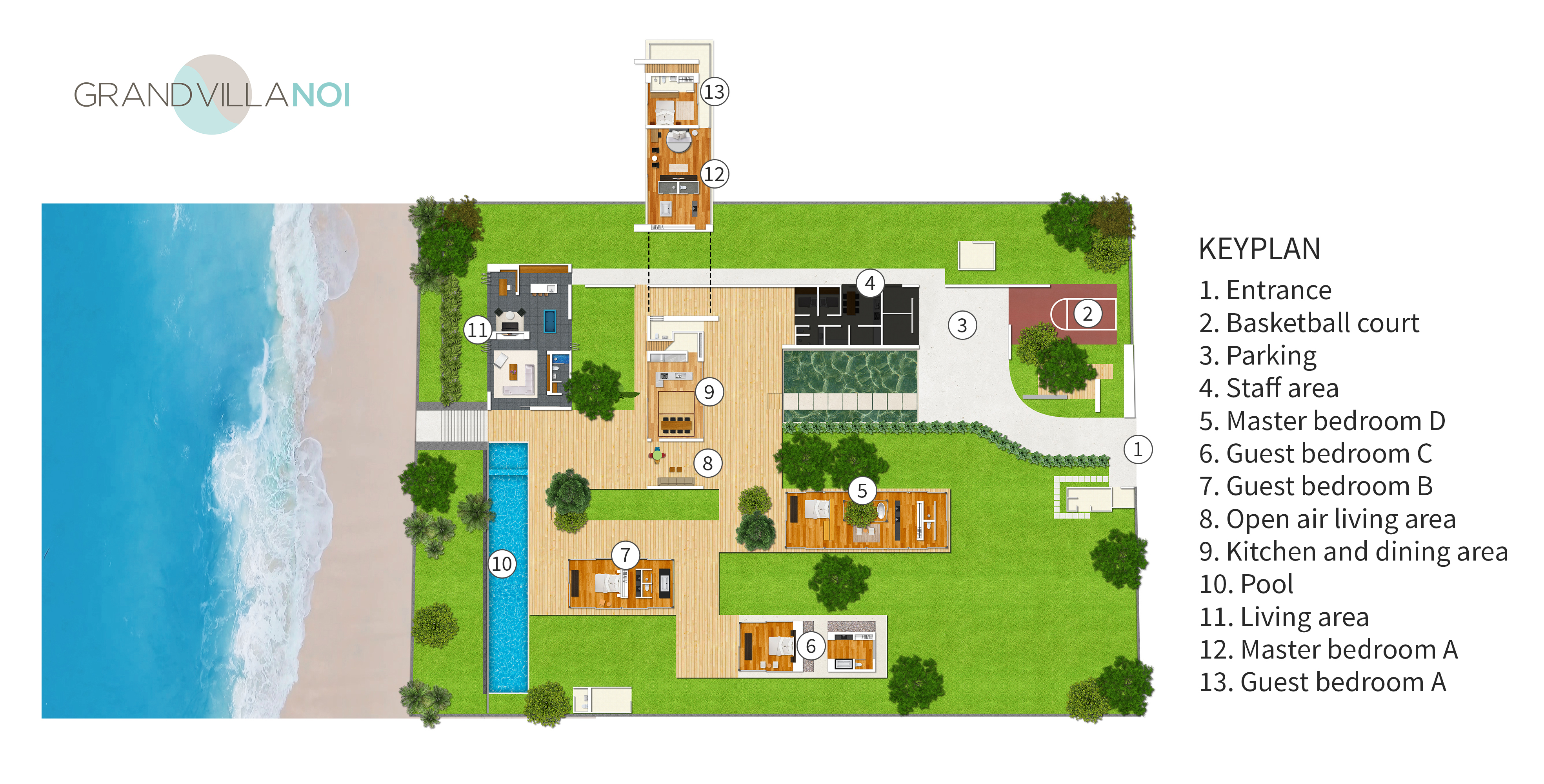 Download in high resolution
Bedrooms
All five luxurious bedrooms in Grand Villa Noi are spacious and feature double beds and ensuite bathrooms. Each is designed with privacy in mind, with beautiful sea views and ceiling fans as well as air conditioning.
Master Suite A
Master suite A is located on the upper level of the main residence. It features floor-to-ceiling glass doors with a balcony and chairs positioned to allow you to gaze at the outstanding sea views. A romantic round double bed takes up one corner of the room, facing a flat-screen TV. The expansive ensuite bathroom boasts of a jacuzzi tub and a separate rain shower.
Guest Bedroom A
Guest bedroom A adjoins the master suite in the main building. Sea views from this bedroom are also exceptional. The room features a comfortable double bed, large wardrobe and safety deposit box. A private patio gives you the chance to gaze at the sea as you sip your morning cup and floor-to-ceiling glass doors allow for ample natural light to flood the room.
Guest Bedroom B
Guest bedroom B is a stand-alone spacious double-bedroom. Placed up ahead next to the swimming pool, it has unobstructed views of the beach and waters beyond. The ensuite bathroom has a large bathtub and a rain shower.
Guest Bedroom C
Guest bedroom C juts out into the green lawn and is decorated with bold brick walls and warm wooden flooring. The double-bedroom is spacious and has an ensuite black granite bathroom with a bathtub. Perfect for nature lovers, it is nestled into the tropical foliage.
Master bedroom D
Master bedroom D has a comfortable double bed sets in a private building. The room features floor-to-ceiling glass doors and a long work table perfect for those who need to remain connected while on holiday. The room has an ensuite bathroom and an enviable open-air bathtub.

Living Areas

Indoor living
The air-conditioned family room faces the sea at the front of Grand Villa Noi. Featuring rustic wooden interiors and never-ending sea views, the ambiance is cozy and inviting. There are a variety of games available as well as a billiards table, designated kids area, a mini library, a writing desk and wine cooler. The family room is large with plenty of space for everyone, making it the perfect place to lounge or gather together at any time during your stay.
A modern open-plan kitchen takes up one corner of the main residence and extends into a long, family style eight-seater dining table. Floor-to-ceiling glass doors give you the option of semi-alfresco or air-conditioned dining. The kitchen and dining area overlook the timber pool deck and infinity swimming pool.
Outdoor living
A beautiful timber pool deck flanks the infinity swimming pool at the front of Grand Villa Noi. Sun loungers are strategically placed around the swimming pool and swaying tropical trees provide respite from the sun's rays.
Nestled into a tropical garden, the outdoor living area has direct access to the soft sands of Natai Beach, a 10-kilometre stretch of unspoilt beach which is as stunning as it is tranquil. For the little ones, there is a designated kids seating area with tables and chairs as well as a mini basketball court in a private garden.